Sex is serious!

Love safe!

Get the facts – take control!

Whether it's a fling or a serious thing…get tested!
Extended yawn driven by boredom.
Several years ago, a county department of health asked Elasticity to manage a campaign aimed at communicating the importance of safe sex and protecting oneself from sexually transmitted diseases. After telling us they had already developed the creative and they simply wanted us to deliver the message, we declined the opportunity.
It didn't have anything to do with ego. We weren't trying to plant some flag in the ground and say that if we don't develop the creative, we won't play in their sandbox.
"I'm sorry, but there's nothing in the creative that would make me not want to have sex," I told the program manager.
It was just that simple. I wasn't going to hitch Elasticity's wagon to a creative narrative I knew would prove ineffective. 
Underwhelming advocacy creative like what this county government wanted us to deliver is not terribly unique. In fact, "unique" is the key word here, because a good many public information campaigns – whether it be drugs or sex or whatever – are far from unique. They are more often than not rather safe. In very Pence-like fashion, they deliver the block-and-tackle, conservative messages that are reliably steady but, in the end, accomplish little.
There are, however, exceptions to the rule.
In 2012, the Children's Healthcare of Atlanta's "Strong4Life" effort launched a campaign focusing on how devastating obesity can be for children. It centered on the notion that overweight kids have overweight parents, with commercials punctuated by a startling message: "Being fat takes the fun out of being a kid."
I watched all of the ads and they were heartbreaking. The national outcry from critics was predictably palpable:
"There seems to be this perception that it's OK to shame children and families struggling with obesity because that will provide an incentive to lose weight," said Rebecca Puhl of the Rudd Center for Food Policy & Obesity at Yale University.
"Blaming the victim rarely helps. These children know they are fat and that they are ostracized already," said Dr. Miriam Labbok of the Carolina Global Breastfeeding Institute at the University of North Carolina at Chapel Hill.
"Guilt and blame don't motivate change, they just make people feel bad, and when people feel bad, they don't tend to be motivated toward healthy behavior," said Dr. Stephen J. Pont of the University of Texas Dell Medical School.
The ads were certainly raw. But still, people paid attention — which is often more than half the battle in public interest advertising, and for that matter, all advertising in today's ADHD culture.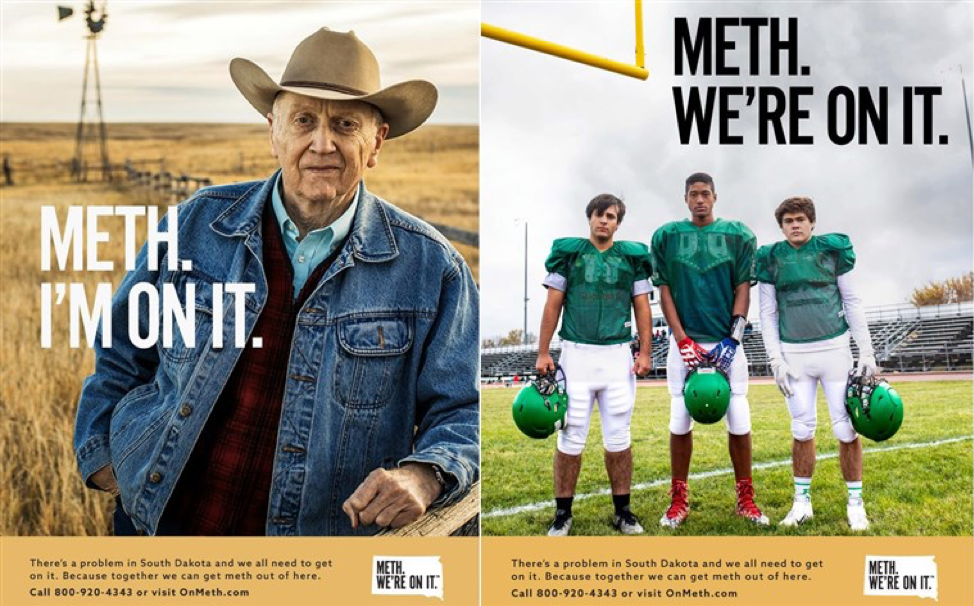 More recently – less than 14 months ago, in fact – South Dakota's governor found herself defending an anti-methamphetamine campaign that was widely mocked online: "Meth. We're on it."
"Hey Twitter, the whole point of this ad campaign is to raise awareness," Gov. Kristi Noem said Monday afternoon. "So I think that's working…"
The Internet went insane and people lost their shit on all platforms — social media, traditional media and even the ad industry piled on.
South Dakota: "Meth. We're on it."

The rest of the country: "Hey, um, are you guys OK over there?" https://t.co/wX5aNWYoX3

— ArgusLeader911 (@Argus911) November 18, 2019

But you know what? People paid attention!
Here is my point in all of this, and it's coming from someone at an agency that does syphilis awareness advertisements: If you're a city or state government or a non-profit and you're investing dollars and effort into changing behaviors — make it count. Great creative requires bravery, a spirit of invention and a willingness to think beyond your own belief system while diving deep into the psyche of the audience you wish to reach.
So why not put some sex appeal in your safe sex ads?
Dig deep, develop strategic creative messaging and imagery that grabs people's attention and actually drives behavior change.
After all, that's the point, right? 
Below are two that made me pay attention. Let me know if you like them or not.